HAPPYBIRTHDAYWAR عيد ميلاد سعيد للحرب
Syria 2011-
FAUST
A Tragedy by Johann Wolfgang von Goethe
Scene II
BEFORE THE CITY-GATE
Another Citizen
On holidays there's nothing I like better
Than talking about war and war's display,
When in Turkey far away,
People one another batter.
You sit by the window: have a glass:
See the bright boats glide down the river,
Then you walk back home and bless
Its peacefulness, and peace, forever.

Third Citizen Neighbour
Yes! I like that too:
Let them go and break their heads,
Make the mess they often do:
So long as we're safe in our beds.
-
FAUST – Erster Teil
Johann Wolfgang von Goethe
VOR DEM TOR
ANDRER BÜRGER:
Nichts Bessers weiß ich mir an Sonn- und Feiertagen
Als ein Gespräch von Krieg und Kriegsgeschrei,
Wenn hinten, weit, in der Türkei,
Die Völker aufeinander schlagen.
Man steht am Fenster, trinkt sein Gläschen aus
Und sieht den Fluß hinab die bunten Schiffe gleiten;
Dann kehrt man abends froh nach Haus,
Und segnet Fried und Friedenszeiten.
DRITTER BÜRGER:
Herr Nachbar, ja! so laß ich's auch geschehn:
Sie mögen sich die Köpfe spalten,
Mag alles durcheinander gehn;
Doch nur zu Hause bleib's beim alten.
HAPPY BIRTHDAY WAR
Syria 2011 –
DINNER PLATE
Porcelain – 20 cm
Cobalt Blue
Sven Borger
Keramikstudio: Sascha Eselböck
Brennmeister: Gerald Pfaffl
Series – seven plates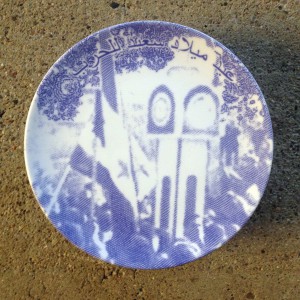 CLOCKTOWER HOMS
Model as a sign for the revolutional movement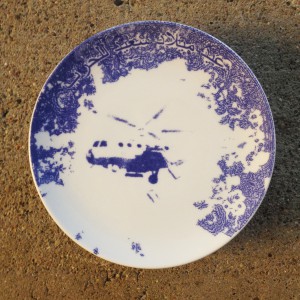 HIP MI-MIL 8
The Mi-8 is among the world's most-produced helicopter. Here with two barrel bombs.
Critics have characterised them as weapons of terror and illegal under international conventions. According to Sanjay Gupta, barrel bombs strikes can produce the seismological equivalent of a 7.6 magnitude earthquake.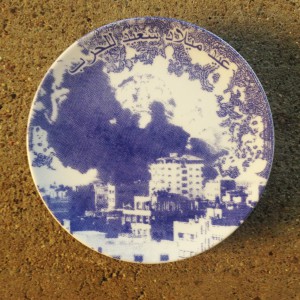 BARREL BOMB IMPACT
Due to the large amount of explosives (up 1,000 kilograms (2,200 lb)), their poor accuracy and indiscriminate use in populated civilian areas (including refugee camps), the resulting detonations have been devastating.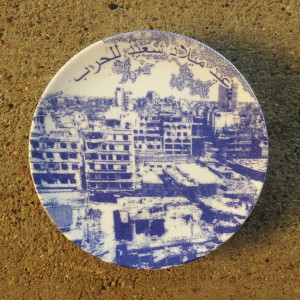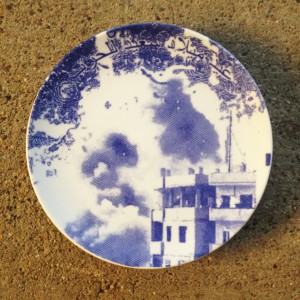 HOMS SYRIA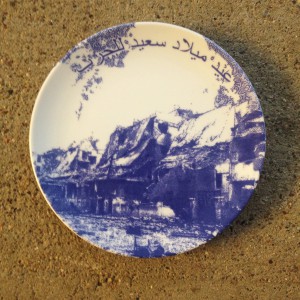 BARREL BOMB IMPACT II
Close impact.
Darayya in south Damascus during the Geneva II peace summit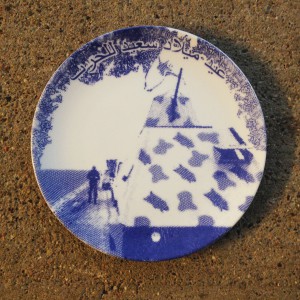 (… those countries I extend my thanks, namely to Russia, China and Iran, and to all those who stood by the Syrian people to determine their own destiny.)
Syria's President Bashar al-Assad
Jan. 6, 2013 – Opera Damascus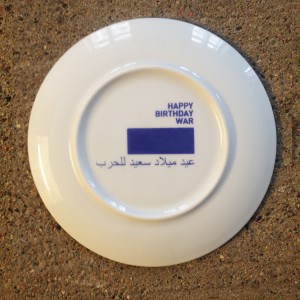 HOMEMADE KURDISH TANK
Syria
Sources: Pictures taken from open sources. Modified artwork.