NYC AIDS Memorial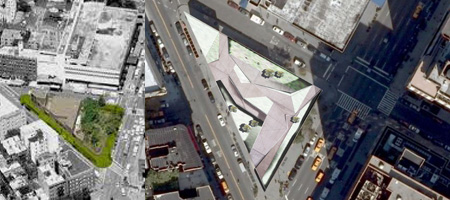 The NYC AIDS Memorial Park Design Competition
New York City is a synonym for multifacetedness, tolerance, and zest for life. No other city in the world embodies that nimbus more profoundly. The memorial will represent one facet of this city: HIV, the pandemic of our time. It will honor the city's more than 100,000 AIDS victims and commemorate their caretakers and advocates as well as AIDS activists. Our proposed memorial reflects life, hope, dying, and loss. The original urban area is completely restructured, with the former hospital basement now exposed. The public area is split into two levels and offers visitors a place for discovery, recreation, reflection, and information. The design consists of three elements: the bridge, the underlying space, and the garden of remembrance. The memorial follows the space's triangular shape.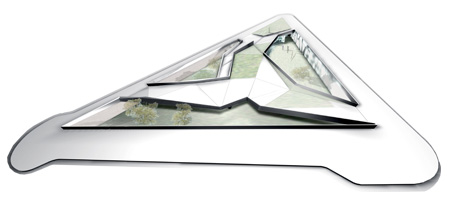 It can be reached from all three sides through generous entrances. The low-lying garden is entered via a spacious ramp. The bridge spans the whole area touching the existing development at three possible entrance points. Folded concrete connected in a modular structure forms the bridge. The joints and upward and downward slopes, like the folded monument itself, are a metaphor for the unpredictability and fatefulness of life.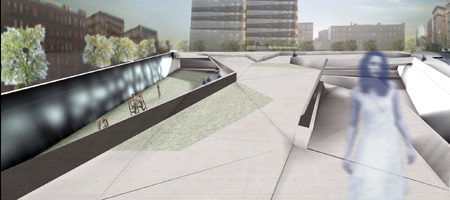 Its many levels can be seen from far away and hint at the memorial's inset garden. The bridge and the area below it offer space for tranquility and a view of the surrounding urban life. Directly below the bridge, the building offers exhibition space and an office, where visitors can collect information about HIV/AIDS.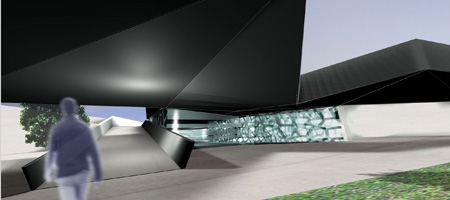 The ramp facilitates discovery of the garden of remembrance. It is like the comfort of a friend holding your hand when you are sad. Once down below visitors are routed by light and shadow through the garden, which is sheltered from high-speed city life. Inside this secret garden are among cherry trees the "trees of remembrance". Each tree is a sculpture, an abstraction of a tree similar to a silhouette. The sculptures have notches where padlocks engraved with the names of AIDS victims will hang in place of leaves. Each tree's dimensions follow the Fibonacci sequence. The ratio of the line segments is 3:5; the sum, 8, looks like infinity, symbolizing the undying love someone feels losing a beloved person due to an incurable disease like AIDS. The memorial connects memories and actual life in a modern interpretation. A pure necropolis is one dimensional and non-interactive. In this memorial, the trees will grow new padlockleaves to remember new victims. Exhibitions can take place in the rooms below the bridge, and recreation or grieving can be done in the garden. Life and living "positive", loss and responsiveness are the message.